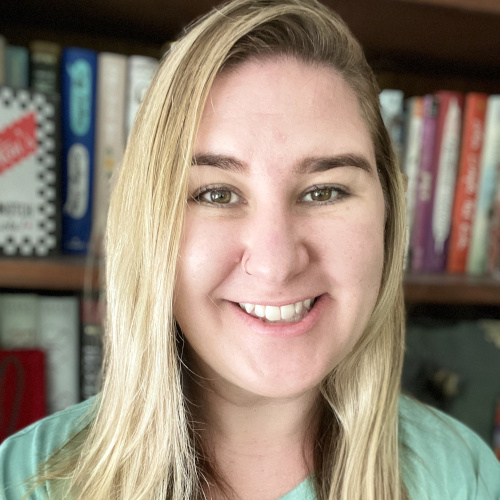 Website:
https://hannahvanvels.com/
Twitter:
@hannahvanvels
Instagram:
Hannah Vanvels
2022 Annual Contest Editor ✓
2021 Annual Contest Editor ✓
2020 Annual Contest Editor ✓
Mini-Event Editor ✓
Bio
Hannah VanVels Ausbury is an editor and literary agent. She has worked various bookish jobs including a stint as a bookseller at Barnes & Noble, a freelance editor for scholarly and academic essays and journals, and as the acquiring editor at a young adult imprint with HarperCollins Publishing.
Hannah's editing business was born out of a love for working closely with authors and coming alongside them to make their vision come to life on page. Hannah lives in West Michigan with her partner, two German Shepherds, and two cats.
Pronouns: She/Her
MSWL
This year, I'm only open to Middle Grade, books for readers ages 8-12.
Middle Grade
Adventure

I would love to see a MG version of The Mummy (the Brendan Frasier version, of course)
Animal protagonists are surprisingly polarizing, but I am firmly in the pro camp!

Contemporary

Stories of friendship, silly antics, and growing up
Evergreen themes: body positivity, self-love, coming-of-age, girls supporting girls, friendship and friendship breakups

Fantasy (including contemporary fantasy and science fantasy)

Magical schools
Stories inspired by myths, folklore, or legends
Stories that have both magic and cool technology

Historical

Focusing on historically overlooked characters and time periods

Horror or paranormal

Give me the ghosts, creepy crawlies, and witches

Science fiction

If you can compare to a superhero movie, I'm in
Aliens and the otherwise extraterrestrial very welcome
Q&A
How can a manuscript's first five pages make you sit up and take notice?
A strong character voice (doesn't everyone say that?)! I want to see an MC with agency, who happens TO the world rather than the world happening to them. I also want to see promise of conflict and what could happen if your MC fails (or succeeds) with their goals.
What can writers expect from working with you during #RevPit, including communication?
Writing is inherently personal, so I am always aware of what a privilege it is for me as an editor to be entrusted with a story. It is an editor's job to help make a writer's work shine, so I make sure that I have a clear idea of a writer's editorial vision, and then I come alongside to help bring that vision to life on page. Editing is a collaborative effort, and I'm here to freak out, brainstorm, and am completely in your corner when it comes to your story.
What do you expect from writers during the #RevPit revision process, including communication?
Revising is hard, and I expect writers to put in the work. I expect writers to be open to criticism, be willing to kill their darlings, and to be transparent in communication.
What hobbies do you have outside of writing and editing?
I love baking. I also love critiquing contestants on cooking and baking shows from my couch, asserting my opinion like I'm Paul Hollywood.