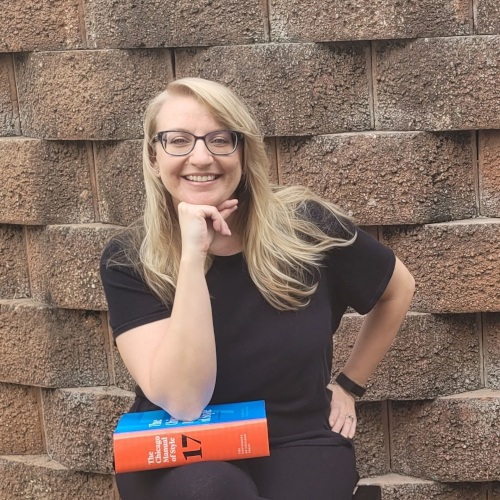 Website:
https://www.editorrascon.com/
Twitter:
@editorrascon
Instagram:
Editor Rascon
2023 Annual Contest Editor ✓
2021 Annual Contest Editor ✓
2020 Annual Contest Editor ✓
2019 Annual Contest Editor ✓
Mini-Event Editor ✓
Bio
Michelle Rascon is a freelance fiction editor with over seven years of experience working with successful self-publishing and querying authors. Her goal is to strengthen your writing while respecting your unique voice. An introvert at heart, Michelle enjoys naps, reading, gaming, listening to music, and cuddling with her cat.
Pronouns: She/Her
MSWL
MSWL
I love stories that make me laugh and cry, with heartbreaking themes, tension, and intense emotions. I'm a sucker for deep POV and enjoy working with first-person, third-person, or limited third-person. I don't have a preference for past tense or present tense.
I'm interested in adult (including crossover), YA, and MG in these genres:
Dark Fantasy
Horror (including body horror)
LGBTQIA+
Mystery (including cozy)
Paranormal
Romance (except historical)
Sci-fi (except military-based or space opera)
Suspense
Thriller (specifically murder, not action/adventure)
Urban Fantasy
Women's Fiction (adult only)
I enjoy stories with these elements:
BIPOC representation
Body positivity
Character-driven plot
Complex relationships (romantic or non-romantic)
Disability representation
Enemies to lovers
Ghosts
Grumpy/Sunshine
LGBTQIA+ representation
Mental illness representation (specifically depression, anxiety, OCD, or disordered eating)
Morally gray characters
Nerds
Sex
Shapeshifters
Tragic endings
Vampires
Werewolves
Witches
Please do not send stories with these elements:
Anything with a motor vehicle accident resulting in a flipped vehicle, significant injury, or death as a plot event or a character's emotional wound. Please direct questions about what qualifies to the #RevPit board.
Epic or high fantasy
Faith-based stories
Historical stories (including romance)
Incest
Love triangle
Magical realism
Military-based stories
Space operas
Q&A
How can a manuscript's first five pages make you sit up and take notice?
Writing that shows a clear understanding of craft, character development, and plot development will make me take notice. Introduce the main character and let their voice shine in the narrative. Create a relatable connection before the inciting incident—I want to experience the main character's emotions, decisions, and circumstances with them, not be told about them. End on a cliffhanger that makes me want to read more. This is difficult to do in five pages, but it's possible!
What can writers expect from working with you during #RevPit, including communication?
You can expect a partnership. My goal is to help you perfect the story you've envisioned while keeping your voice. We'll start by discussing your major concerns and questions via our chosen method(s) of communication. My focus during the developmental edit is the big picture content like character development, pacing, plot, and world-building. You will receive comprehensive feedback and suggested revisions via an editorial letter, in-line comments, and Track Changes, with the opportunity to ask follow-up questions. We'll also polish up your query letter and pages for the showcase.
My preferred method of communication is email. However, it's important to feel safe when sharing your creative energy and resolve any difficulties preventing you from receiving the compassionate and thoughtful editing experience you deserve. I am open to modifying my editing process to accommodate chronic illness, disability, or other significant barriers, and I'm happy to discuss helpful solutions with you.
But I do not offer video chats or phone calls (no exceptions).
What do you expect from writers during the #RevPit revision process, including communication?
Mutual, open communication, responsiveness, and respect are essential to a positive working relationship. If you have questions, ask! If you have concerns, voice them! If you do not want to make a particular change, tell me! This story is yours, and I expect you to protect it fiercely while also allowing it to change and grow.
Prepare to make significant revisions in a limited amount of time, including cutting, adding, and reshaping. I expect you to put in as much dedication and hard work during the time we have together as I do.
Please inform me if there is anything I can do on my end to make the editing process more accessible for you.
What hobbies do you have outside of writing and editing?
I love napping, listening to music, bugging my cat for pets, playing tug-of-war with my basset hound, playing video games, reading, and watching TV.